You may have watched a lot of comedy.
But have you really looked at it?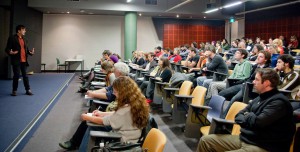 This intensive two-day course shows you the secrets of writing comedy.
International comedy legend Tim Ferguson gives you processes and insights you need to write comedy for standup, television & film.
Tim Ferguson's Comedy Writing Masterclasses have helped writers and comedians:
Improve their comedy skills
Get their projects made
Win international awards
Beginners or Professionals – Tim's Revolutionary Comedy Principles work for everyone!
You will learn new ways to write your standup material.
You will be shown how to construct a comedy film or TV show.
You will discover new ways to sell your comedy to producers & networks.
The course focuses upon the principles of jokes, comic characters and narrative humour.
Tim offers you amazing new processes and principles for devising comic conflict, metaphors, juxtapositions, reversals, story structures, knowledge differentials, pathos, subtext and the rhythms of comic dialogue.
You'll be writing new comedy before your know it!
WHEN: Weekend of 31st MAY & 1st JUNE (10am to 5pm)
WHERE: Offices of Australian Writers' Guild, Perth
"The best thing about Tim's comedy course is that it's really practical. It's not like other courses I've done where you are left thinking "OK great theory – but how do I make use of that?" Tim makes it very clear how you can apply what you learn to your own comedy writing."
[Jehan Ratnatunga
Youtube Premium Channels Strategist, USA]
"Tim Ferguson is an absolute comedic genius! I wrote my first US TV pilot using his principles."
[Joanne Rose, winner of 2 Outstanding Achievement Awards L.A. WEB FEST 2013
(www.veganvision.net)]
"Absolutely worth every cent."
[Susannah Petty, Feature Film Writer]
(Winner of Los Angeles Screenwriting Expo Screenplay Award 2011)
"Learning the inner mechanics of comedy with Tim has provided me with tons of knowledge to draw upon on my journey to writing an award winning movie or TV series."
Henry Inglis, Screenwriter/Comedian
(Winners of Movie Extra Webfest 2011 for 'Henry & Aaron')