'Tim's course demystified the mechanics of what makes comedy work. It's like having a doctor explain how to make people laugh.'
– Steve Mitchell, Comedian & Screenwriter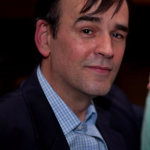 A practical understanding of comedy is vital for any screenwriter.
In this two day masterclass, one of Australia's most successful international comedians Tim Ferguson reveals the secrets of comedy writing for stage & screen.
Despite what you might think, comedy is not a mysterious art. It is a craft based upon ancient principles. These principles are universally applied through all comedies. Every joke has a name.
This revolutionary masterclass presents writers with practical processes to devise comic characters, conflict and stories. Tim offers new approaches to working with metaphors, juxtapositions, reversals, story structures, knowledge differentials, pathos, subtext and the rhythms of comic dialogue. Learn how to construct a sitcom from the ground up, making choices in terms of theme, genre, style and tone.
Tim Ferguson (Author of 'The Cheeky Monkey' Comedy Screenwriting Manual, Co-Writer of feature film 'Spin Out', various sitcoms and comedy shows & member of Doug Anthony All Stars) offers processes and insights necessary for professional screenwriters to expand their skills base into writing comedy for television and film.
The course includes lectures, script analysis, workshopping and the viewing of excerpts from sitcoms and comedy films. It concludes with methods for formulating series bibles and pitching concepts to Australian and international film and television markets.
Narrative comedy is the world's most popular and lucrative form of screenwriting. Tim Ferguson's master class offers approaches that are simple, original and practical.
You'll be writing comedy before you know it.
WHERE:AFTRS Sydney
WHEN: March 19th + 20th

TESTIMONIALS:
'There are Master Classes and Master Classes. Then there is Tim Ferguson's PhD in Comedy Class. It was just a wonderful five star experience from start to finish – and yes, it is 'ha-ha' hilarious.'
– Dr. Patrick Maher, Past Chairman of the WA Writers Guild
'So many lightbulb moments, I had to put on sunglasses. This course is revolutionary – a whole new way to look at comedy.'
– Leisl Egan, Television Writer

'Tim's comedy class was outstanding … His notes are a fantastic reference guide and I still regularly use them. Don't hesitate. Just do the class.'
– Carol Cumming, Writer/Director
'I wrote my latest screenplay with Tim's comedy principals by my side. Every time I noticed that I'd written an unfunny scene, which was only most of the time, I'd grab Tim's notes and with startling ease make any scene laugh out loud funny.'
– Brett Stanning, Screenwriter

'I realised that you can learn being funny. Seriously!'
– Irina Goundortseva, Writer/Director

'This course helped me to understand how to structure a joke for maximum effect and create characters that are consistently funny while avoiding cliché. It helped me get the giggle factor!'
– Perri Cummings, Freelance Scriptwriter and Storyliner for Neighbours

'Tim explained how comedy works in such a clear and simple way. Made me realise I can do this!! I'm now writing my own romantic comedy movie, a zombie comedy and two sitcoms. As for stand-up – watch this space!'
– Mark Ryan, Screenwriter