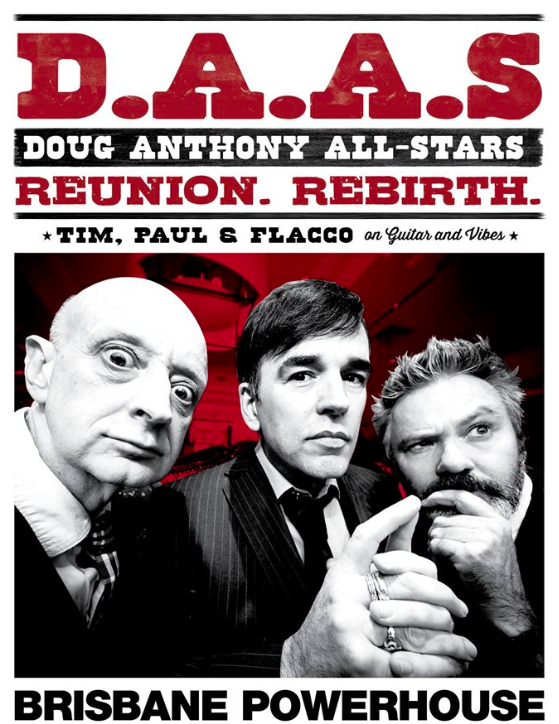 Australia's first international rock stars of comedy,
The Doug Anthony AllStars, are coming to break Queensland law by gathering in Bikie Uniforms & Drinking Koolade.
Paul McDermott & Tim Ferguson join forces with their mentor, Paul 'Flacco' Livingston; returning to wreak havoc.
DAAS revolutionized comedy like no act before or since, bombarding unsuspecting audiences with their inimitable formula: songs, sex, violence, sex, feminism (and sex).
Storming the UK, USA & Europe in the '80s & '90s, DAAS took comedy into rock venues, playing to huge crowds and becoming the Edinburgh Festival's biggest selling act for eight years.
Now, run screaming down memory lane into the mob-rule chaos that turned three men into legends.
"Stark raving genius." – New York Times
"Sex & violence never smelt so bad." – Rolling Stone
"Not accurate." – Tokyo Times
"Flacco is a cross between Franz Kafka and Daffy Duck. The single most innovative act
seen on the fringe in years." – The Guardian
"DAAS sind gefährliche lustig Anarchisten." – Spiegel
WHEN: October 28th, 29th, 30th & 31st
WHERE: POWERHOUSE, BRISBANE