The Doug Anthony Allstars 'DAAS' ARE BACK on a WORLD TOUR!
Paul McDermott & Tim Ferguson (Introducing Paul 'Flacco' Livingston)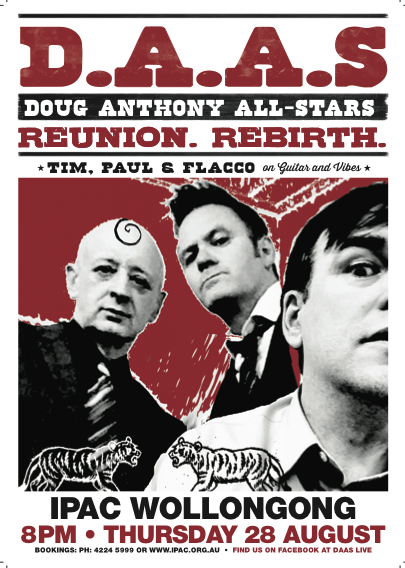 DAAS revolutionised world comedy like nobody before or since. Again.
Now you can see the international comedy team that rocked the world with sex, violence, music & more sex.
Run screaming down memory lane with Australia's most controversial comedy export.
– Secrets of the world's first 'comedy rockstars'
– Clips of rare footage
– Puppies -V- Kittens
"The most offensive comedy on earth. Loved it!"
New York Times
"Sex Pistols with bigger guns."
L.A. Times
"DAAS sind gefährliche lustig Anarchisten!"
Spiegel
WHERE: IPAC Wollongong
WHEN: August 28th 8:00pm
BOOKINGS: CLICK HERE
WARNING: Frequent violence, harsh language, horror themes, sexual and adult elements
[No Dogs]