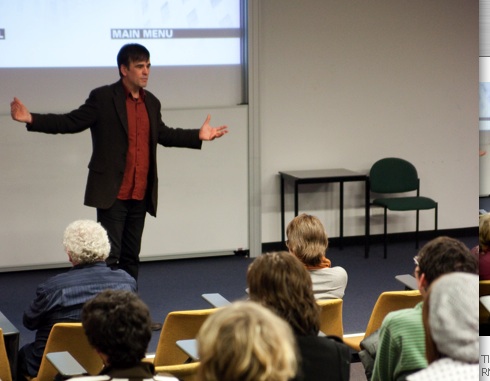 "The class was captivating and will be solely responsible for kick-starting my career as a screenwriter. The best life investment I have ever made."
Katie Dahlenburg (Producer)
Screenwriting for movies or TV is a complex and competitive process.
It can be hard to know how to develop projects or break into the industry.
Do you have ideas or scripts but you're not sure how to get them up to scratch, let alone sell them to funding bodies and producers?
You can save a lot of time and money by joining Tim Ferguson's 'All You Can Eat' Introduction To Screenwriting course at RMIT University.
This revolutionary and inspirational course gives you the tools and practical skills to get you writing straight away. And you'll receive industry tips from an insider.
The course offers cutting-edge principles and practices for developing scripts for film and television. You'll gain new methods and a new understanding of how to get projects written and on the screen.
You will explore ways to construct a TV or film concept from the ground up, making choices in terms of character, genre, structure, dialogue, conflict, style and presentation.
Tim teaches his screenwriting principles to hundreds of new and experienced writers. He makes sense of the sometimes baffling process of screenwriting. And you'll gain useful tips for pitching and selling your work.
"If you want to write for film or television you owe it to yourself to do this course."
Dean Watson (Screenwriter/Columnist)
"This course taught me more than a full time year long course would have. Tim Ferguson is brilliant, and is so generous with his knowledge." (Christos Herouvim)
WHEN:
10 x Tuesday evenings
Tue 26 Feb 2013 to Tue 07 May 2013
WHERE:
RMIT University, School of Media & Communication,
23-27 Cardigan Street, South Carlton, VIC