AUSTRALIAN FILM, TV & RADIO SCHOOL (AFTRS)
'Few lecturers are skilled comedians and few comedians are skilled lecturers. Tim's courses are a masterclass in both.'
(Shaun Topp, TV Development Executive)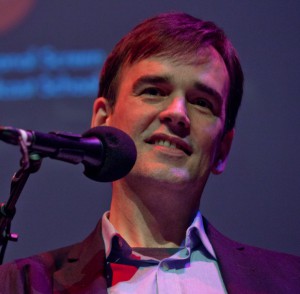 A practical understanding of comedy is vital for every screenwriter.
Beginners or professionals can benefit from this inspirational course.
Tim Ferguson's revolutionary masterclass offers skills that are simple, original and practical.
In this 2-day masterclass, one of Australia's most successful international comedians 'unlocks the code' to comedy writing. Author of the bestselling comedy-writing manual "The Cheeky Monkey", Tim has trained thousands of screenwriters and comedians.
Despite what you might think, comedy is not a mysterious art. It is a craft based upon ancient principles. These principles are universally applied through all comedies. Every joke has a name.
This revolutionary masterclass presents writers with practical processes to devise comic characters, conflict and stories. Tim offers new approaches to working with metaphors, juxtapositions, reversals, story structures, reverse-suppositions, knowledge differentials, pathos, subtext and the rhythms of comic dialogue. Learn how to construct a sitcom from the ground up, making choices in terms of theme, genre, style and tone.
The course includes lectures, script analysis, workshopping and the viewing of excerpts from sitcoms and comedy films. It concludes with methods for formulating series bibles and pitching concepts to Australian and international film and television markets.
You'll be writing comedy before you know it.
WHEN:
6 Oct 2012 – 7 Oct 2012
9:00AM – 5:00PM
(2 sessions, 16 hours total)
WHERE:
State Library of Queensland
"The best thing about Tim's comedy course was that it is really practical. It's not like other courses I've done where you are left thinking "OK great theory – but how do I make use of that?". Tim makes it very clear how you can apply what you learn to your own comedy writing."
(Jehan Ratnatunga, Youtube Premium Channels Strategist USA)