TIM FERGUSON in 'CARRY A BIG STICK'
Directed by comedy movie legend Marc Gracie
at Melbourne International Comedy Festival
(Now with sexy surprise footage!)
Auslan-Interpreted Show on April 2nd (5:45pm)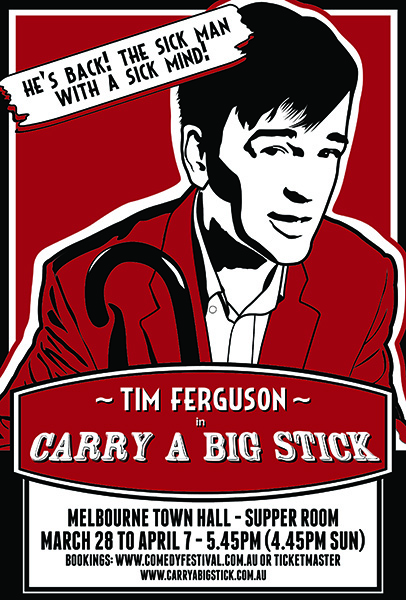 He's BACK! Tim Ferguson returns in 2013 with his Sell Out 2012 Comedy Festival Hit.
After the huge successes round the nation, Tim's bringing his big stick comedy back.
And he's launching his Senate Campaign – Live!
In his funny & inspiring show, Tim speaks of his battle against Multiple Sclerosis. It's a battle he claims to be winning. "I fight dirty – with a stick."
The battle is about to get heavy. Tim is running for the Australian Senate. He's making no promises. He has no policies. Just feelings!
Fast, Fierce and Funny, Tim tells scary, sexy tales from his life on the comedy warpath. TV networks, celebrities and worldwide comedy festivals take cover!
Speaking from Los Angeles, Tim said,
"I'm excited to be returning to the Melbourne Comedy Festival. I'll be coming back harder & faster, with wheels on!"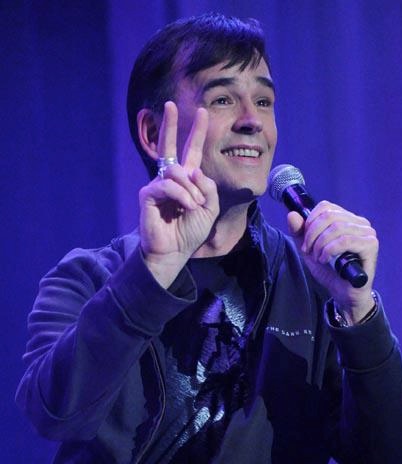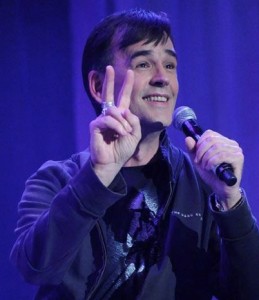 "Frank, Funny and Fearless"
(Perth Now)
"From the rockstar fame of The Doug Anthony Allstars to his Network TV Mega-Productions and then his diagnosis of MS. It's an amusing, exhausting and bittersweet journey."
(Herald Sun)
"I laughed! I cried! I wet my pants! Seriously, I did."
(Robert Jones, USA)
WHERE: Melbourne Town Hall – The Supper Room
WHEN: 28th March – 7th April (not Mondays), 10 Shows Only
TIMES: Tuesday – Saturday 5.45, Sunday 4.45.
BOOKINGS: Ticketmaster
Ticketmaster Ph: 1300 660 013
For further Info: www.comedyfestival.com.au