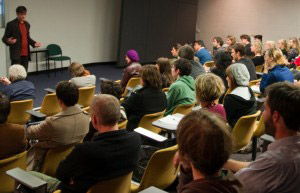 'Tim Ferguson's Cheeky Monkey book/course was a key factor in moving me from free open mic stand-up comedy to performing paid spots in professional comedy clubs.'
[Richard Lindesay, Comic UK]
'Even after five years of intensive screenwriting study Tim Ferguson's comedy course impressed me with its savvy insights, passionate delivery and ability to turn even non-believers into skilled comedy writers. Absolutely worth every cent.'
Susannah Petty, Feature Film Writer
(Winner of Los Angeles Screenwriting Expo Screenplay Award 2011)
Tim's comedy class was outstanding … His notes are a fantastic reference guide and I still regularly use them.  Don't hesitate. Just do the class.
This course helped me to understand how to structure a joke for maximum effect and create characters that are consistently funny while avoiding cliché. It helped me get the giggle factor!
I wrote my latest screenplay with Tim's comedy principals by my side. Every time I noticed that I'd written an unfunny scene, which was only most of the time, I'd grab Tim's notes and with startling ease make any scene laugh out loud funny.
The true nature of humour had eluded me until I did Tim's comedy workshop. Understanding what really makes people laugh has turned my writing on its head so my feet are now on the ground. Highly recommended.

Chris Brooks
Writer/Producer at High Performance Learning
"Learning the inner mechanics of comedy with Tim has provided me with tons of knowledge to draw upon on my journey to writing an award winning movie or TV series."
Henry Inglis, Screenwriter/Comedian
(Winners of Movie Extra Webfest 2011 for 'Henry & Aaron')
If you have ever wanted to learn the secrets of how to write great comedy, this is the course you should not ignore, Tim Ferguson is a genius. He is so very generous with his knowledge, nothing is held back everything is revealed!
I realised that you can learn being funny. Seriously!
Tim's course de-mystified the mechanics of what makes comedy work. It's like having a doctor explain how to make people laugh.
'So many lightbulb moments, I had to put on sunglasses. This course is revolutionary – a whole new way to look at comedy.'
Leisl Egan, TV Writer
(Winner of the 2011 Australian Writers Guild Pitching Competition with her sitcom concept)
Tim's classes cover everything from gags, to characters, to plot, to the final pitch. Do yourself a favour and sign yourself up!
Tim Ferguson is like a code breaker.
Tim Ferguson does the unthinkable: he breaks comedy down into it's component parts, allowing anyone to use his formulas to craft jokes that are actually funny! I cannot recommend this course highly enough.
Tim Ferguson is an absolute comedic genius! His comedy writing class was non stop fun and helped me to become an even better comedy writer. I wrote my first US TV pilot using these principals.'
Joanne Rose, winner of 2 Outstanding Achievement Awards L.A. WEB FEST 2013
Multi-Award Winning Writer/Actor/Producer (www.veganvision.net)
It's like a Jedi course for comedy, though Tim is a few heads taller than Yoda.
Tim's course provided me with invaluable information about what a producer wants and how to actually pitch a show.
Tim shows you how to seriously unlock the secrets of comedy while having you in stitches.
'There are Master Classes and Master Classes. Then there is Tim Ferguson's PhD in Comedy Class… It was just a wonderful five star experience from start to finish – and yes, it is 'ha-ha' hilarious.'
Dr. Patrick Maher
Past Chairman of the WA Writers Guild