"Tim's workshop taught me more than years of self-study and practise. Highly recommended." – Richard Lindesay, Comedian, UK 
HOW TO WRITE STAND-UP COMEDY Online Masterclass
Great comedy is all in the writing.
Tim Ferguson's revolutionary 4-hour online class gives you the techniques and tools you need to:
–    Write great original standup routines
–    Overcome nerves & heckles
–    Stand out from the other comedians
Discover simple writing principles that professional comedians use to generate and sharpen their material. 
Find new ways to write your own comedy routines that work.
Beginners and professionals welcome!
WHEN: Saturday July 15th  –  10am – 5pm
TICKETS:
$180.00AUD [incl GST] – Full
$140.00AUD [incl GST] – Concession
BOOKINGS: Click here
"Brilliant class! Practical, insightful, easy to apply."
[Jack Berger, stand-up USA]
"Tim is like a magician revealing all the tricks. Amazing!" [KJ Mueller, NYC]
Comedy Screenwriting Masterclass
2-day online course.
Tools and techniques for writing comedy Movies, Sitcoms, Sketches, Web-series.
Write comedy scripts that sell
Develop comedy characters
Discover the secrets of comic stories
Secrets of funny dialogue
Package & pitch your ideas
Ideal for writers, producers, editors, creative execs
Beginner & professionals welcome!
If you're a Beginner, Tim will show you how to get started. If you're a Professional, you'll gain new tools to improve your scripts.
TEACHER: Tim Ferguson is a TV/film writer & director and international touring comedian. He's taught comedy screenwriting at NYU, AFTRS, Sydney Film School, VCA.  Tim wrote the bestselling manual, The Cheeky Monkey – Writing Narrative Comedy.
For Ages 18+
The course takes place over two Sundays
WHEN:
COST:
EARLY BIRD COURSE PRICE:
$675 AUD
BOOKINGS: Click here
'Non-stop fun! I wrote my first US TV pilot using these principles.'
     [Joanne Rose, winner at  L.A. WEB FEST]
"Revelations galore! I've written comedy for 20 years, but Tim showed me how comedy really works on the inside."      [CK Cohen, NYC]
"Fun, practical and inspiring."     [Jeffery E Doherty, YA + Kids author]
Who is the comedy teacher?
Tim Ferguson One of Australia's most successful international comedians and screenwriting teachers, Tim has taught comedy screenwriting at New York University & AFTRS.
Tim is author of 'The Cheeky Monkey' Comedy Screenwriting Manual, Co-Writer of feature films 'Spin Out' & 'The BBQ' and various books, sitcoms and TV shows. 
Many writers struggle with comedy. It can seem an unknowable art. But as Tim says, "Comedy is a craft. It can be learnt and mastered!"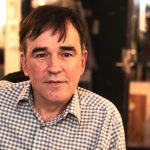 Tim has trained thousands of writers round the globe. Many go on to win international awards and sell their projects.
Gain the tools to get started on your next great comedy idea.
You'll be writing great comedy before you know it!
Screenwriting comedy testimonials
'This man is a comedy legend. Take his comedy writing course, read his book.'  
– Simon van der Borgh, Senior Lecturer in Film & TV Production (Screenwriting) at University of York
'If you're an aspiring comedy writer, go to one of Tim's classes. The Rosie Project owes a lot to his teaching.'
– Graeme Simsion, author of The Rosie Project
'Fun, practical and inspiring.  I'll never see comedy the same way again!'
– Jeffery E Doherty, author
'There are Master Classes and Master Classes. Then there is Tim Ferguson's PhD in Comedy Class. It was just a wonderful five star experience from start to finish – and yes, it is 'ha-ha' hilarious.'
– Dr. Patrick Maher, Past Chairman of the WA Writers Guild
'This course is revolutionary – a whole new way to look at comedy.'
– Leisl Egan, ABC Producer 
'Can't recommend Tim's courses enough. I learned so much, and had so much fun, I was keen to do it a second time!'
– Scott Anderson (Screenwriter)
'Savvy insights, passionate delivery and an ability to turn even non-believers into skilled comedy writers.'
 – Susannah Petty, Winner of LA Screenwriting Expo Screenplay Award

'It's like having a doctor explain how to make people laugh. Tim's insights are essential if you're serious about comedy.'
– Steve Mitchell, Screenwriter of The Heckler movie