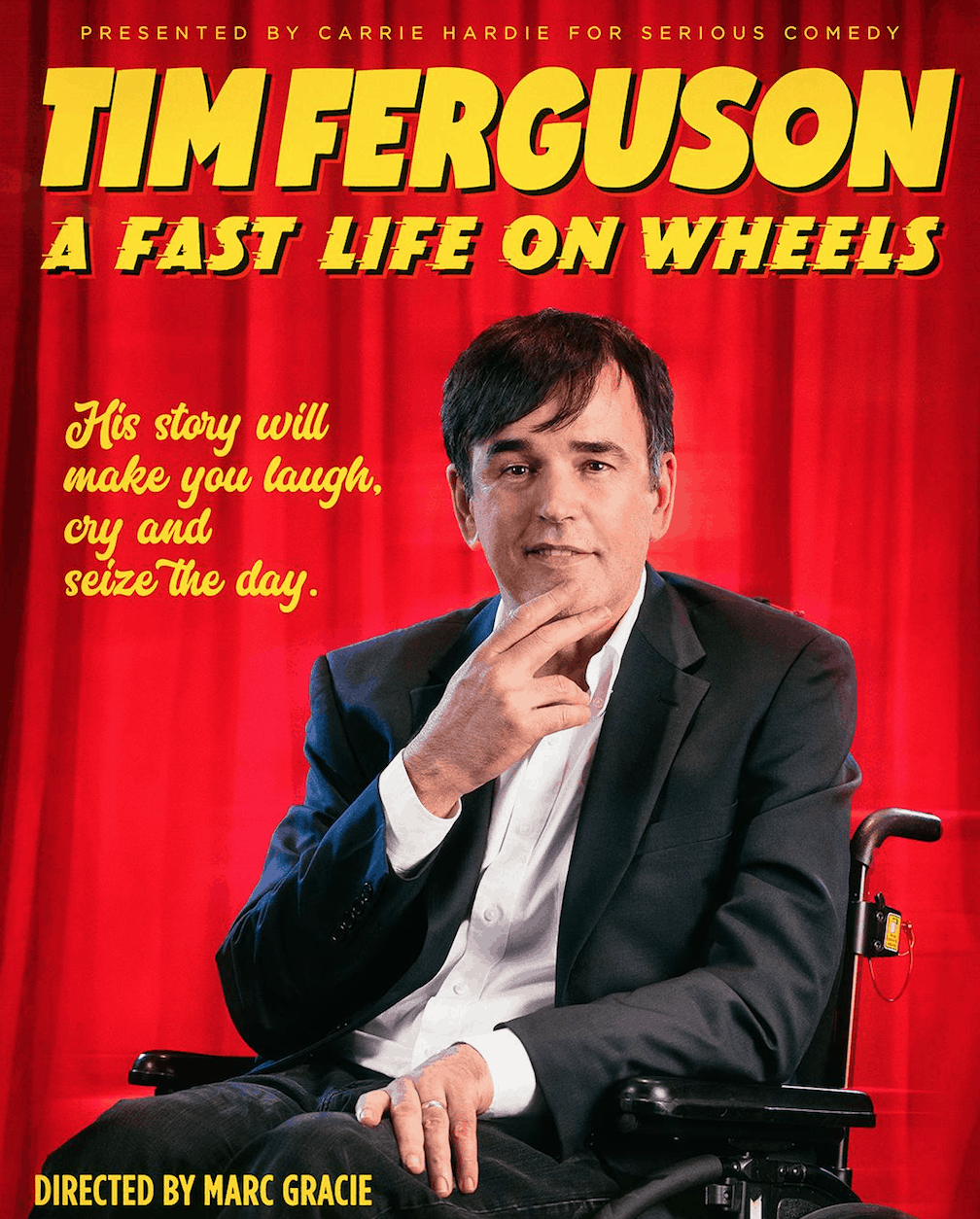 Tim's Live comedy shows, 'Fast Life on Wheels' and 'Smashing Life' are touring in 2021.
Fast Life on Wheels is the hilarious and uplifting comedy journey of Tim's life and his father's revolutionary legacy. From his childhood in Singapore, rural New South Wales and Canberra to Touring with the Doug Anthony all-stars, adventures in network television, life as a comedy teacher and MS battler.
Tim takes you through his "Fast Life" with hilarious stories, breathtaking insights and his trademark wicked humour. Hilarious, touching and out of control. This show is hell on wheels.
Winner Best Male Solo at the Adelaide Fringe Festival 2018.
Smashing Life – (Motivation for Idiots)  A daring show pulling Motivation-Speak inside out, making a giggling mess. Tim Ferguson faces severe challenges due to multiple Sclerosis. Yet his positivity and energy seem boundless. He tours the world in a wheelchair, makes movies and live shows, creating comedy from darkness. How does he do it? How does he smash life?
Tim combines comedy, laughter and "the unstoppable power of stupidity" to present a life-changing way of looking at the world. Most motivational speakers Have the same messages. Focus, persistence, self belief, see-it-want-it-go-for-it etc etc… Tim turns this "me-me-me" culture on its head.  Tim says, "The habits of successful people only work for successful people. The rest of us need something more practical. And easy. And fun!"
This masterful comedian reveals how he smashes life, overcomes obstacles and defies all odds.  He'll fill your heart with joy and your belly with laughter.
It's Motivation for Idiots. Like all of us.
"There is wisdom in Tim's outrageous idiocy!"  [Director Marc Gracie]