DOUG ANTHONY ALLSTARS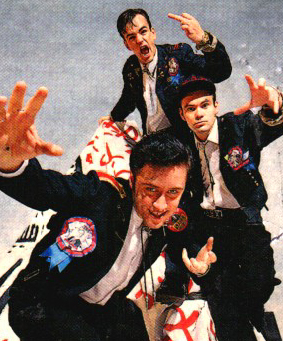 The world-famous Doug Anthony Allstars wreak havoc on the Live ABCTV comedy show – The Big Gig.
Explosive! Audacious! Hilarious!
Australia's notorious comedy trio rampage through a tornado of songs, stunts and stupidity.
D*A*A*S sing up a storm with Dead Elvis, Krishna Riding Shotgun and the heart-breaking rendition of Heard It Through The Grapevine.
Tim Ferguson, Richard Fidler & Paul McDermott were the corrupt kings of comedy in the 80's and 90's. They left an indelible stain on the world's psyche.
Disclaimer: No goats were whipped too hard in the making of this DVD.
"Pure comic genius" (London Times)
"I think one of them touched me." (Washington Post)
"Totally offensive on every level." (Radio Triple J)
GET YOUR COPY HERE:
DOUG ANTHONY ALLSTARS
Unlimited Uncollectible Sterling Deluxe Edition