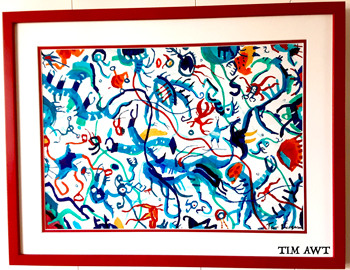 Do you want an original Tim Ferguson AWT (art) work commissioned? Artworks are in three sizes and crafted on premium Canvas paper. Buy now!
If you would like to commission Tim for a new original piece of art, please email: tim@cheekymonkeycomedy.com
Artworks are in three sizes – A2, A3, A4. All works on premium Canvas paper 240 to 300 GSM. [Prices vary.]
Examples of Tim's work:
LaTrobe Philosophy lecturer, Mark Ryan, spoke about the characters in Tim's paintings: "They spring from individual places, with odd, unique stories and baggage. All kinds of beliefs and observations fill the gaps between the sparse and suggestive lines. These crowds are all full of characters with serious intent, but Tim's vision is laced with his trademark humour."
Art exhibitions featuring Tim's art works are coming in 2021. Tim's new works include his extraordinary 'UBU ROI' series and the 'COMEDIANS' series [including 'Comedians of New York', 'London Comics' and 'Backstage with Australian Comedians'.
Tim's original artworks and prints will also be available at his
live shows
.