The comedy writing textbook
COMEDY WRITING WITHOUT THE TEARS!
Writing Comedy is tough!
Now you can make it easier for yourself.
How to write sitcoms and stand-up comedy
Have a step-by-step plan to realise your comedy ideas
Have simple steps for writing jokes & Stand-up routine
Develop your ideas for TV, Webisodes & Movies
Write comedy scripts that sell
Successfully pitch your comedy ideas to producers
You can start writing comedy straight away.
If you have ideas but don't know where to start, this book shows you the way.
And if you've always wanted to try comedy but worry about failing, you'll get a solid plan for getting started.
The Cheeky Monkey comedy writing manual is a simple & practical how-to guide.
It shows you the secrets of comedy writing.
Save yourself years of guesswork and embarrassing mistakes!
The Cheeky Monkey is written by comedian Tim Ferguson. Tim has created & written sitcoms, movies, entertainment TV & live shows.
Tim's comedy writing principles apply to writing sitcoms, stand-up, webisodes, sketches and movies.
Cheeky Monkey Comedy Testimonials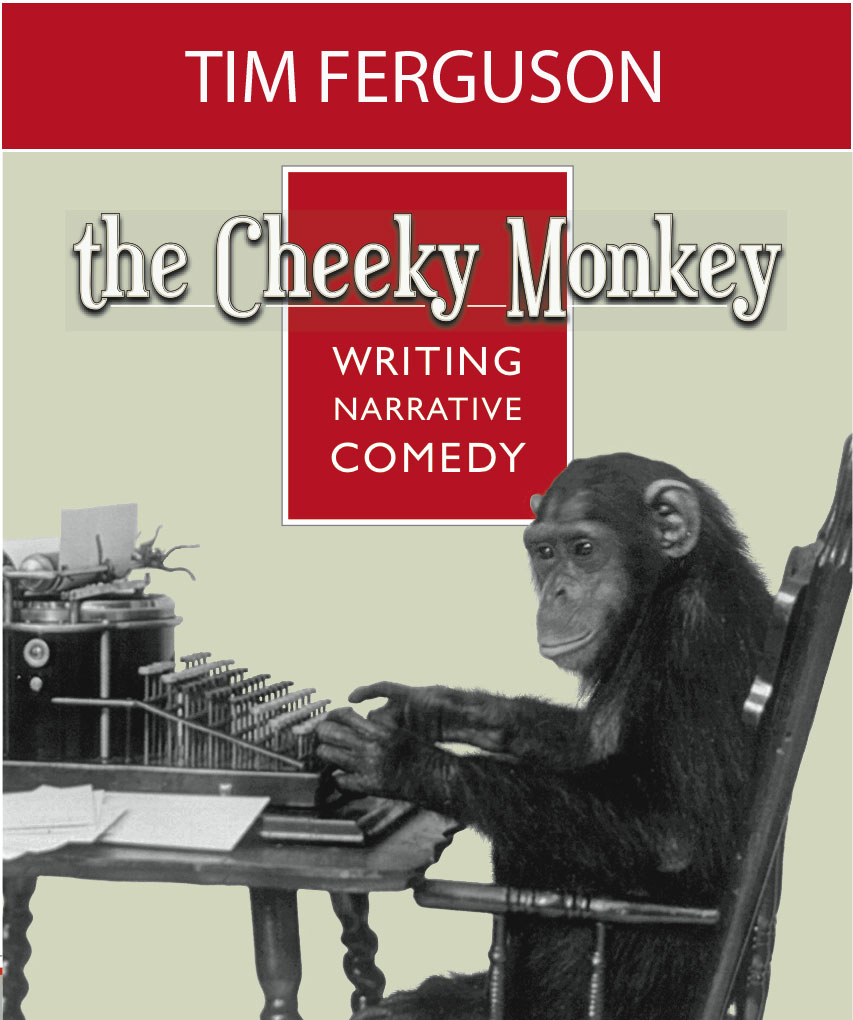 'It's like a Jedi course for comedy, though Tim is a few heads taller than Yoda.'
May Yeung, Screenwriter (UCLA)
'Tim Ferguson's Cheeky Monkey book/course was a key factor in moving me from free open mic stand-up comedy to performing paid spots in professional comedy clubs.'
Richard Lindesay, [Comedian, UK]
'Tim Ferguson is an absolute comedic genius! His comedy writing class was non stop fun and helped me to become an even better comedy writer. I wrote my first US TV pilot using these principals.'
Joanne Rose, winner at L.A. Web Fest
For Tim's Comedy writing manual, The Cheek Monkey – Writing Narrative Comedy    click here
"This book is brilliant, I thoroughly enjoyed it! Not only is it very funny, but it also provids a detailed game plan for creating comedy. Not easy, of course, but a wonderful step by step recipe. It helpfully analyses the many reasons WHY we laugh, and offers hope that even a layman can learn to be funny in their own writing."
(Ed Love, Screenwriter, Director UK)
"Cheeky Monkey is THE book on narrative comedy writing. Nothing superficial. Just rich, deep ideas. & its bloody funny!"
(Mike Jones, Producer, AWG award winner)
"This is by far the most awesome book on comedy writing ever written, and I've read most of them. I can't recommend it enough.
I wrote the million-seller comedy videogame: 'Looney Tunes – Acme Arsenal', and used loads of the awesome tips, tricks and ideas from Tim's book. This stuff works!"
(JT Velikovsky Transmedia Writer-Director-Producer & Film Story R.O.I. Guru http://storyality.wordpress.com/)
"It's already being called 'Bible'. We won't be able to live without it!"
(Robert Jones, Producer USA)
To own a copy of The Cheek Monkey go to:
CURRENCY PRESS PUBLISHERS
E-BOOKS AVAILABLE ON
iTunes
Kindle
[Published by Currency Press]
Buy The Cheeky Monkey by Tim Ferguson
"You don't need to aspire to write comedy to find this book entertaining and instructive."
(The Age, Melbourne)