DAAS REBIRTH
By Zac Berger for NYC Comedy
I have never enjoyed watching DAAS. Now they've undergone a rebirth.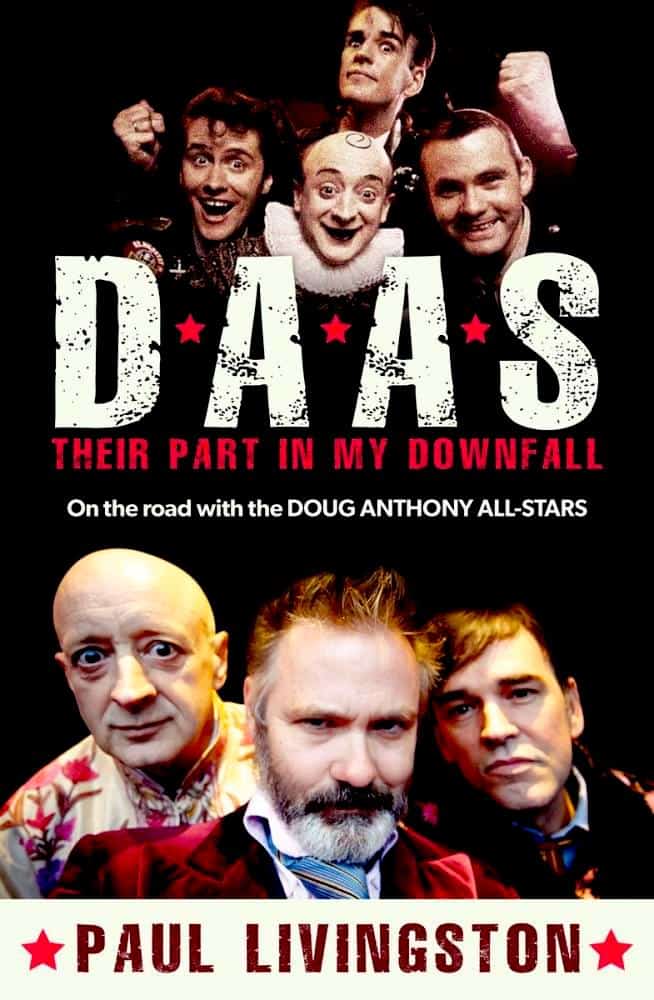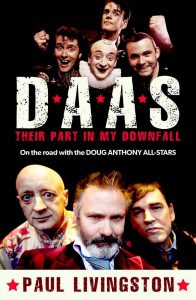 In the 20th Century I was intimidated by their sweet-faced, caustic aggression. And what they called 'comedy' felt more like a barrage of affronts. The songs were good but never good enough to soothe the bruises. They are exhausting.
The first time I saw them was 1988. They were busking in the beer garden of Modavie Bar, Montreal.
For fun, Tim Ferguson set fire to Paul McDermott.
Ferguson declared it was a magic trick. He squirted lighter fluid on McDermott and set him ablaze.
McDermott leaped and rolled screaming, 'What a world! What a world!'
Ferguson poured a can of beer on him. But his can was nearly empty after his own guzzling. The flames leapt.
Ferguson was un-panicked. 'Anyone have a spare beer?'
Everybody had beer. Nobody had a spare beer.
McDermott began making small shrieking sounds, little fits, starts and profanities. The cloying stench of burning nylon filled the air.
Ferguson remained calm. 'Anyone have a fire extinguisher?'
Nobody had a fire extinguisher.
'We need something, anything.'
A man threw his leather jacket from the crowd.
Ferguson picked it up.
'Cash only, please,' he said. He threw it back.
McDermott screamed something un-printable.
'Behold!' said Ferguson. 'See how the flames lick and spark. No smoke and mirrors – just smoke.' He chuckled. This was typical of the humour I still find less than interesting.
Thanks to some vigorous rolling and slapping, and a can of Fanta stolen from a teenage dude, McDermott's flames were doused. His shirt was ruined.
Ferguson whispered, 'Behold! The flames have vanished.'
McDermott climbed gingerly to his feet and threw up his arms in triumph.
But clearly, he was scorched by the stunt.
The crowd of Canadians politely applauded.
The teenage dude asked for his Fanta back.
'No refunds,' said Richard Fidler the guitarist.
Ferguson lectured the lad in free-market Reaganomics ('Your Fanta will return eventually.')
It was hard to know if Ferguson was joking.
It still is.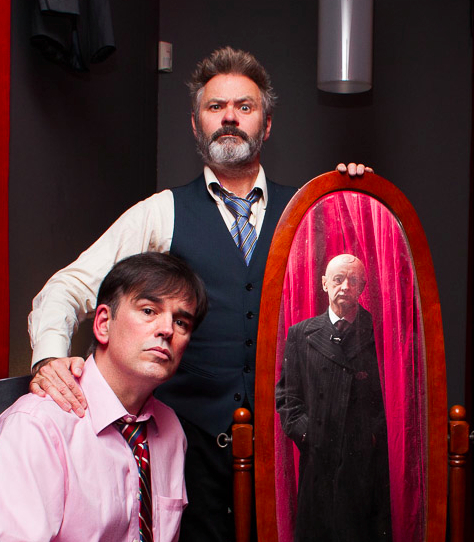 Rebirth
Wind the clock forward twenty years, and remove Fidler (who has better sense than to give up his lucrative radio career for a life on the comedy road). Insert Paul 'Flacco' Livingston behind the guitar, add some grey hair for McDermott, and a wheelchair for Ferguson. Behold! DAAS have re-appeared. They are the worse for wear and tear.
They tour relentlessly. They play to packed venues, attracting the same rabid devotion they always did.
And there are teenage fans, lots of them.
I interview some of the fans outside the Harold Park Hotel before a trial show of DAAS' newest material.
Renata Jones is a 19-year-old girl with a DAAS tattoo on her forearm (a real one for pity's sake). It depicts the trio's burning skulls. 'We found them on YouTube,' she says. 'There's nothing like it.'
But a tattoo? Really?
'When you know, you know.'
I ask her if she understands the permanence of tattoos.
'It's just a small one,' she says.
Toby, Akhmal and Jehan have just finished high school in Newcastle. They sport ukuleles and Bolero jackets as they sing for the queue. They attempt to beguile me with a DAAS song that doesn't bear repeating.
'Paul is the best,' says Toby. The others agree.
'Tim's funny, but he's not trying to be,' says Akhmal.
Jehan nods. 'Paul does actual jokes.'
I ask how they feel about Paul 'Flacco' Livingston.
They argue for some time and come up with 'He's hard to describe.'
Why don't they follow younger comedians?
Jehan says his father has played DAAS albums all his life. In turn, Jehan 'converted' his mates,
'We like a lot of comics,' says Akhmal, 'but DAAS are more than comics. They're a way of life.'
'Like Buddhism,' agrees Toby, straight-faced.
It's hard to believe these lads are for real. I tell them so.
They respond with classic DAAS polemic slogans.
'Freedom of thoughtlessness; Do What Thou Wilt; all vanity is vanity…'
'They don't say break the rules,' chimes Jehan. 'They say make up your own rules, and obey them. To the letter.'
'You've seen them,' Toby says to me, 'you get it.'
Don & Sue McKay are a fit couple in their 50's. They follow DAAS around on their South Coast tours. 'It's our only hobby,' says Sue. 'Nice to have it back.'
So you like the new DAAS?
Don is solemn. 'Paul Livingston is a genius.'
How is he a genius?
'Just lucky I guess.'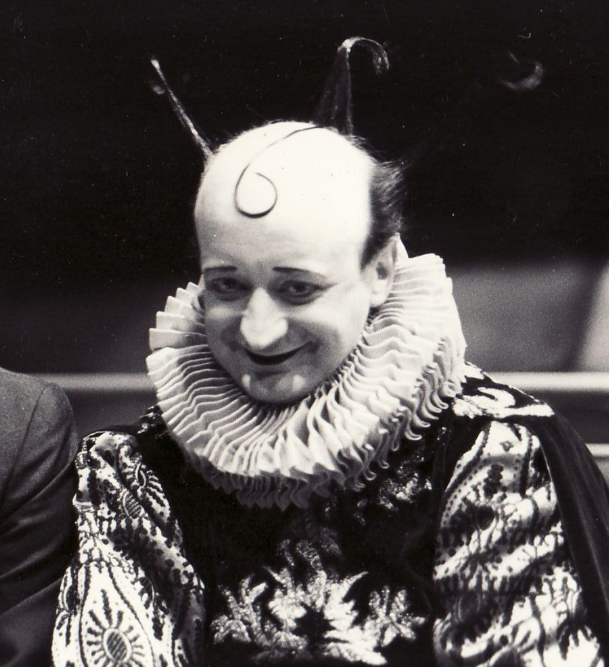 Flacco opens the show
Sue shows me old DAAS trinkets – Soviet-style medals emblazoned the trio's faces, lewd belt buckles, skull-earrings, a tattooed doll's head, a rat's jaw. 'See? Different,' she says.
The show begins. I hate it.
Except for Paul Livingston. I have always loved his work.
His comedic sensibility is exquisite. Delicate, furtive, defiantly flawed. I recall Ferguson confessing 'He's smarter than all of us'.
I have never seen anything like him. As always, his 'Flacco' character opens the show and every rule in my comedy-reviewer head evaporates. He broaches uncommon topics, making comedy gold from lead. His hilarious alchemy is not for me to impart. You will understand if you see him. And if you don't see him, you've missed the Master. He's the exception that proves every rule.
Flacco introduces DAAS and leaves. When he returns onstage to play guitar, his early career as a concert guitarist is clear. His shredding is extraordinary.
And they begin.
But they don't start slowly. They don't build.
It is a brawl from the first song. And it doesn't relent.
Jehan lied. Paul McDermott doesn't do jokes. And Ferguson isn't funny.
They play a zero sum game of symbiotic horrors. McDermott is cursed by Ferguson's frailty. Ferguson is impervious to McDermott's taunts. Vicious circles within circles.
But I begin to laugh.
The audience sounds like they're in pain as they laugh. I'm just in pain. And it goes on. Songs of personal agonies, political torments, rampant sexual gluttony.
By the end of the show, I learn what it means to cry with laughter. I can't breathe. My jaw hurts. My gut aches. I wet myself. I have no control.
And I realise my body hates them more than I do.
Ferguson deals with his Mortality
The crowd erupts in gasping laughter as Ferguson deals with his mortality. His aching care masks his careless abandon. 'I'm spending time like it's going out of fashion,' he says. 'Which it isn't,' he adds.
I have a terrible feeling he is as relaxed about death as he appears. I feel a warped kind of envy as he describes his 'gleeful expectation of getting my teeth into eternity before you lot spoil it'.
McDermott cringes and cajoles him. Then he attacks Ferguson with a verbal assault. He bewails his 'slipped-a-disk mind'. He threatens bloody murder 'with just a sock, just one spongey sports sock'. Ferguson agrees sports socks are the best way to go. 'Death by health kick,' he says. His expression is one of ecstatic rapture and love.
Then they sing.
I am laughing at death. Laughing at the loss of my parents. Laughing at all my weaknesses and dumb mistakes. I resolve to phone my sister with whom I've been estranged. I privately forgive my ex. I wipe away tears.
It's not fair. Comedy isn't supposed to get to these places.
But they are DAAS. More than comics. Less than gods. Hmph.
I hate them more than ever.
But I will see them again.