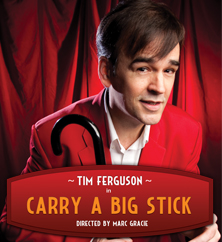 After it's SELL OUT hit season at the Melbourne International Comedy Festival,
Tim Ferguson brings his laugh-out-loud yet poignant Autobiographical show to Perth's Wild West Comedy Festival!
"A bittersweet, touching and funny Autobiography" (Herald Sun)
One of Australia's best-loved international comedians delivers an evening of stories from a life on the comedy warpath.
Tim delivers his adventures with wicked wit and admirable honesty – from touring the world as a Doug Anthony Allstar to his life as a TV network celebrity.
His journey through the halls of television in Oz, the UK and USA is powerful, scary and very funny. He has battled Multiple Sclerosis for much of his adult life. As he says in his show, "It's not for wimps."
In his inspiring show "CARRY A BIG STICK" Tim will deliver his trademark sharp insights on the human condition – and his own condition. On his never-ending battle with MS, he says "It's just another thing that's wrong with my brain."
And there's more:
Hear dark tales from Logies After-Parties!
Gasp at the behind-the-scenes tales of life as a TV network star!
See a real naked woman for the first time!
New York, Montreal, Paris, Berlin, Mandura… Tim has appeared at (and been thrown out of) the finest venues in the world. Perth will be one more notch on his belt!
WHERE:
The Empyrean Theatre
WHEN:
Thursday 30 August to Sunday 02 September 2012